Chicken Ceaser Salad
Ben O'Donoghue
Serves 4
2 heads of baby gem or cos lettuce
100gm crisp pancetta or bacon
1 cup of sour dough bread cut into cubes tossed in olive oil and toasted in a hot oven until golden and runchy
250gm roasted chicken
50gm parmesan cheese
Dressing
1 cup extra virgin olive oil plus extra for croutons
Juice of one lemon
4 eggs coddled (place into boiling water for 3 minute then into cold water)
4 fillets of anchovies
1lg tbsp of Dijon mustard
1 cup of picked flat leaf parsley
1 clove garlic
To make the dressing, coddle the eggs by placing them into boiling water for 3 minutes then into cold water to chill.
Crack the eggs and scoop out the yolk and white into a bowl
Chop the garlic and anchovy fillets and add to the eggs along with a large tbsp of Dijon mustard.
Add the lemon juice and whisk in a cup of olive oil. This will create an emulsion with chunks of egg white in it. Adjust the seasoning with salt and cracked black pepper. Chop the parsley and add half to the dressing
Make the croutons, toss the cubes of bread in olive oil and season with salt and pepper placed on a tray and toast in a hot oven until golden and crunchy. Allow them to cool before using.
Roughly cut the lettuce or break the leaves into a large serving plate. Generously dress the lettuce leaves with some dressing and lift it through the leaves then add the remaining dressing, scatter with the chicken, croutons and pancetta.
Add the remaining parsley and shave the parmesan over the top.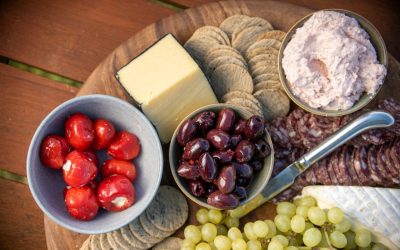 Ingredients: Hard Cheese Soft Cheese Blue Cheese 1 baguette  A bunch of Green Grapes Honeycomb Salami (sliced) Smoked Salmon Dip Artisan Crackers Beetroot dip Poppy Seed Skordalia Dip Dukkah Stuffed Bell Peppers Marinated Olives (pitted) Method: There are no rules or...