Chicken Karaage Bao Buns
Mike Reid
Makes 6
Coating:
½ tsp ground oregano
½ tsp chilli powder
½ tsp dried ginger
½ tsp dried cumin
½ tsp dried turmeric
½ tsp pepper
1tsp salt
1 Tbsp paprika
1 Tbsp onion powder
½ tsp garlic powder
Yuzu Kosho Mayonnaise:
100ml Mayonnaise
Yuzu kosho 15g
Season to taste
To Finish:
200g Chicken thigh
100g plain flour
100ml buttermilk
200g rolled oats, roasted and blended
Oil for frying
6 Bao buns
Pickled cucumbers
Fresh coriander
Coating:
Combine all ingredients and lightly toast them off in a medium heated pan for 5 minutes
Leave to cool and set aside until ready
Yuzu kosho mayonnaise:
Mix ingredients and season to taste
To Finish:
Place your chicken in the buttermilk and cover both sides
Mix your oats and rice flour together before adding your chicken and coating well
Fry in Vegetable oil until golden and crisp then leave on some drainage paper to absorb the excess oil
Add your wasabi mayonnaise to the plate before adding your chicken on top. Garnish with the garlic crisps, chilli and coriander cress
Our friends at Wine Selectors suggest pairing this dish with a Gruner Veltliner.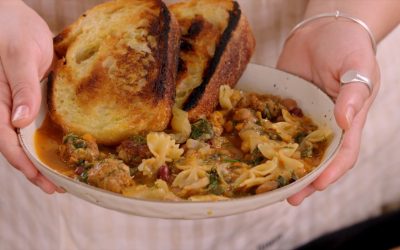 Ingredients: 4 Spicy Italian Sausages Packet of Farfalle Pasta 1 Leek 1 Carrot 1 Onion 2 Garlic 2 cups Shredded Cabbage 1 Chopped Silver Beet 1 400gm Tinned Beans 1 tsp Cumin powder 1 tsp Coriander  powder 1tsp Paprika powder 2 tbsp Tomato Paste Stock of your choice...