Chicken Ma Po Tofu
Ben O'Donoghue
2 tablespoons sunflower oil
250g beef mince
1 tablespoon finely chopped ginger
2 garlic cloves, chopped
2 spring onions, chopped
1 tablespoon Toban Jiang chilli bean paste
2 tablespoons dark soy
1 1⁄2 tablespoons Shaoxing rice wine
2 tablespoons cornflour
250ml Massel chicken stock
250g silken tofu, diced
1 spring onion, sliced on an angle,
To Garnish
1–2 teaspoons dark sesame oil, to taste
Heat 1 tablespoon of sunflower oil in a wok and stir-fry the beef mince, stirring with a spatula until the meat is separated and cooked. Remove from the wok and drain in a colander.
Reheat the wok and add the remaining sunflower oil. Add the ginger, garlic and chopped spring onions and fry for 2–3 minutes.
Return the mince to the wok and combine. Add the chilli bean paste and combine. Pour in the soy sauce and rice wine and cook for 2–3 minutes.
Combine the cornflour and stock. Add to the mince mixture to thicken and cook for 2–3 minutes. If the mixture is too thick, thin with a little water. Add the tofu and gently stir. Take care, as the tofu is delicate.
To serve, place the Ma Po tofu in a serving bowl, garnish with the spring onion and add sesame oil to taste.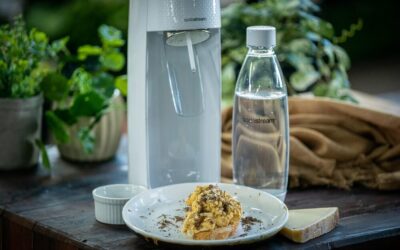 Ingredients: Serves 4 12 eggs, best quality you can afford 150ml sparkling water 2 tablespoons freshly grated parmesan Sea salt and freshly cracked pepper 20g butter 4 thick slices of sourdough, toasted/charred Method: Mix together the eggs, sparkling water, parmesan...