Chilli Arrabbiata
Elena Duggan
700g Passata
½ bunch Fresh Basil, leaves only
400g Packet Penne
250g Green Tiger Prawn flesh (peeled, deveined)
6 cloves Garlic, crushed
½ tsp Dried Chili Flakes
1 long red chili, sliced
1 Spanish onion, sliced in crescents
50g Olive Oil
Salt, to taste
Black pepper, to taste
Cook pasta as per packet instructions until al dente, drain and keep warm.
Heat oil in a fry pan over medium heat.
Gently fry garlic, both chilies and onion until coloured and fragrant, be careful not to burn garlic.
Deglaze pan with passata.
Toss prawns through until just cooked.
Season to taste and toss through penne with basil before serving.
Notes
If your prawns are larger, feel free to cut them in half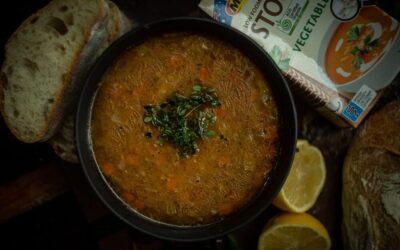 Ingredients: 500g dried chickpeas, soaked in cold water overnight 1-2 sticks of celery, finely chopped 1 large onion, chopped 150ml extra virgin olive oil, plus extra for serving Juice of 1 lemon, or more if needed 2 tbsp fresh flat-leaf parsley, chopped A sprinkling...