Chilli Mussels
Ben O'Donoghue
Serves 4
50g butter
3 cloves garlic, chopped
1 bunch spring onion, whites chopped, green tops thinly sliced to garnish
1 kg live pot-ready mussels
400g can chopped plum tomatoes
375 ml can of beer of your choice (two big gulps worth)
3 long red chillies, chopped
Freshly ground black pepper
Salt
1 tablespoon chopped coriander, to garnish
Heat a heavy-based saucepan over medium high heat. Add the butter, and when it begins to foam add the garlic and chopped spring onion and cook over a high heat, stirring to prevent burning for about 2 minutes
Add the mussels and stir well.
Add the tomatoes, a good slug of beer and the chillies. Stir, then cover, and keep the heat high, give the saucepan a shake to move and open the mussels as they cook.
When the majority of mussels have opened, spoon them out into a large bowl to serve.
Bring the sauce to the boil and season with pepper and perhaps a little salt. Pour the sauce over the mussels and garnish with the spring onion tops and coriander.
Our friends at Wine Selectors suggest pairing this dish with a Robert Oatley Signature Series Great Southern Riesling 2017 or Wignalls Cabernet Merlot 2018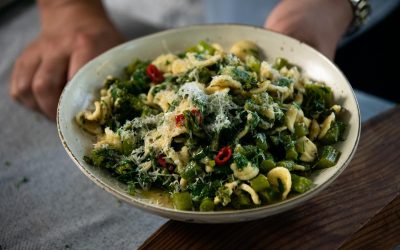 This recipe is brought to you with the help of our friends at Perfection Fresh  Ingredients: 500g orecchiette pasta Table salt for pasta water 2 heads broccolini, cut into small pieces, use stalk as well 4 birds eye chilli, sliced finely 5 cloves garlic, chopped 4...