Chilli Non-Carne
Tobie Puttock
2 tbsp. olive oil
1 brown onion finely diced
1 red capsicum, diced 1cm x 1cm
Sea salt and black pepper 
4 cloves garlic, finely sliced
1 Tbsp ground cumin
1 Tsp. smoked paprika
425 g diced tomatoes
tablespoon tomato paste
200 ml water, plus more as needed
425g cooked red lentils, drained
425g kidney beans, drained
425g black beans, drained
Heat a large pot over a medium heat. Add the oil, onion, and red capsicum. Sauté for 3-4 minutes, stirring frequently.
Add the garlic, cumin, paprika, diced tomatoes, tomato paste, and water, and stir to combine. Gently simmer for 20 minutes.
Add the lentils, kidney beans, black beans, stir to combine and gently simmer for 20 minutes to bring the flavors together, stirring from time to time.
Taste and adjust seasonings as needed. I like to eat this with avocado and roasted sweet potato.
Our friends at Wine Selectors suggest pairing this dish with a Shiraz.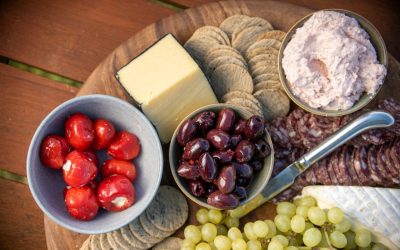 Ingredients: Hard Cheese Soft Cheese Blue Cheese 1 baguette  A bunch of Green Grapes Honeycomb Salami (sliced) Smoked Salmon Dip Artisan Crackers Beetroot dip Poppy Seed Skordalia Dip Dukkah Stuffed Bell Peppers Marinated Olives (pitted) Method: There are no rules or...