Chilli Soy Ribs
Khanh Ong
800g rack of pork ribs
2 long red chilli sliced
4 cloves of garlic cloves crushed
2 pickled onions crushed
a small thumb size piece of ginger minced 1⁄4 cup of brown sugar
1 tsp onion powder
1 tsp garlic powder
1⁄4 cup of white vinegar
2 tbsp tamari
1⁄4 cup of water
a tsp of salt
To Serve:
30g coriander
30g mint
1 cucumber
30g vietnamese mint
30g thai basil
1 lime
handful of bean sprouts
Combine all the ingredients except the pork ribs and blend until smooth in a food processor.
Pour half the marinade over the pork ribs and pop into the oven for 1.5-2 hours at 150C.
On a stove, cook the other half of the marinade for 3-5 minutes, until thickened.
Cover the pork ribs with the cooked marinade and pop it under the grill function of the oven for 5-8 minutes
For the salad, shave the cucumber with a vegetable grater into ribbons and combine with all other ingredients. Finish with lime juice and toss.
Remove ribs from the oven and serve salad on the side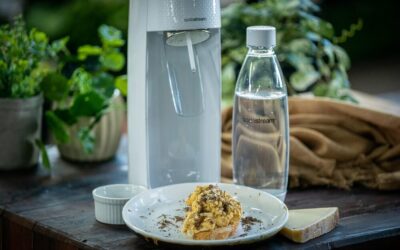 Ingredients: Serves 4 12 eggs, best quality you can afford 150ml sparkling water 2 tablespoons freshly grated parmesan Sea salt and freshly cracked pepper 20g butter 4 thick slices of sourdough, toasted/charred Method: Mix together the eggs, sparkling water, parmesan...