Chimichurri by Jeramiah
Jeremiah Jones
Makes: 1 Litre Approx
2 bunches Italian parsley
2 bunches coriander, roots removed
1 bunch basil, leaves picked
1 bunch oregano, leaves picked
1 bunch tarragon, leaves picked
3 shallots, diced
2-3 red chillies, roughly chopped
5-6 garlic cloves, peeled
150ml white wine vinegar
60ml lemon juice
200ml extra virgin olive oil
White pepper, to taste
Caster sugar, to taste
Sea Salt, to taste
Chop a portion of each of the herbs by hand, and 1 of the shallots. Combine in a large bowl and set aside.

Place remaining ingredients in a food processor and blitz, slowly adding in the olive oil to emulsify everything. Season to taste with pepper, sugar and sea salt and mix to combine. Transfer to the bowl with the hand chopped ingredients and mix together. Adjust seasoning to taste if required. Store in an airtight jar or container and refrigerate for up to 3 weeks.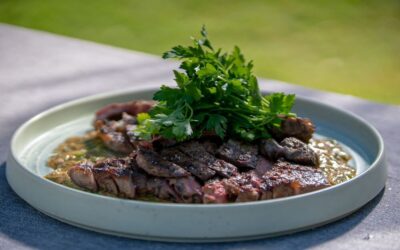 Ingredients: Serves: 2-4 2 x 250g T-bone or Rump steak Sea salt 2 Tbsp Olive oil 2 Tbsp Butter 1 brown onion, diced 2-3 cloves garlic, finely chopped 1 tsp dried chilli flakes 2 tsp dried mixed herbs 40 'twists' cracked black pepper 2 chicken stock cubes, crumbled 2-3...