Chinese Style Chilli Crab & Indigenous Greens
Elena Duggan
Crab and Chili
1.5kg Blue Swimmer crabs
50g Peanut oil
25g Salted black beans
15g Ginger, peeled, and finely diced
1clove Garlic, peeled, and finely diced
1med Red onion, finely sliced
2lge Red chilies, deseeded and finely diced
2 Birds eye chilies, deseeded and finely diced
75g Chinese wine
25g Sesame oil
25g Chinese black vinegar
25g Tamari (GF soy sauce)
25g Stevia Monkfruit
Vegetables
15g Peanut oil
15g Sesame oil
2lge Red chilies, deseeded and finely diced
2cloves Garlic, finely diced
150g Saltbush leaves
250g Mixed Indigenous greens such as warrigal, crystal ice plant, karkalla, samphire – leaves only
100g Liquid stock
15g Tamari
Salt, to taste
Preparing the Crab
To kill the crabs humanely, place them in the freezer for 2 hours.
Meanwhile, bring a large pot of water to a boil over high heat.
Once the crabs are no longer moving, plunge them into the boiling water for about 60 seconds or just until the shells begin to turn red. Remove the crabs from the water and set them on a baking sheet to cool.
Remove the top shell from each crab body and clean the insides with your fingers.
Using a large sharp knife cut the main body of each crab into 4 pieces.
Cooking the Crab
Place a large wok over high heat. When it is hot, pour the peanut oil into the wok.
Add the black beans, ginger, garlic, onion, chilies, and stir for 30 seconds, or until fragrant.
Add all the crab pieces, and stir for 5 minutes.
Add the Chinese rice wine and stir for 3 minutes, or until the wine is reduced by half.
Combine the sesame oil, vinegar, tamari, and stevia in a small bowl, and drizzle the mixture over the crabs.
Toss to combine and cook for 2 minutes, or until the crab is just cooked through, set aside.
Vegetables
To stir-fry the greens, place the peanut oil and sesame oil in a wok set over high heat.
Add chili and garlic and stir-fry for one minute or until just fragrant.
Add saltbush and greens along with tamari and chicken stock and stir-fry for 2 minutes or until greens wilt.
Return crab and sauce to wok and toss well to combine. Season to taste. Serve immediately.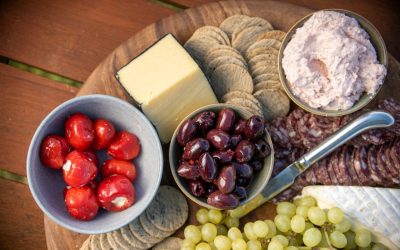 Ingredients: Hard Cheese Soft Cheese Blue Cheese 1 baguette  A bunch of Green Grapes Honeycomb Salami (sliced) Smoked Salmon Dip Artisan Crackers Beetroot dip Poppy Seed Skordalia Dip Dukkah Stuffed Bell Peppers Marinated Olives (pitted) Method: There are no rules or...