Chocolate and Pear Pikelets
Simone Austin
Serves 4
6 scoops Chocolate Ensure Powder
1 egg
1 cup milk
1 cup self raising flour
Pinch salt
1 tablespoon melted butter
Canned Pears, drained and sliced thinly
¼ teaspoon nutmeg
½ teaspoon cinnamon
1 teaspoon brown sugar
Extra virgin olive oil for frying
Beat the egg, milk and Chocolate Ensure powder together
Add the flour and salt and lastly the butter.
In a small bowl or cup mix the nutmeg, cinnamon and brown sugar together
Heat a pan with a little extra virgin olive oil and with a ladle add in some pikelet batter.
When the mixture bubbles turn over and cook until golden brown.
Serve and top with sliced pears and a sprinkle of the brown sugar and spice mix.
Repeat until all the batter is used.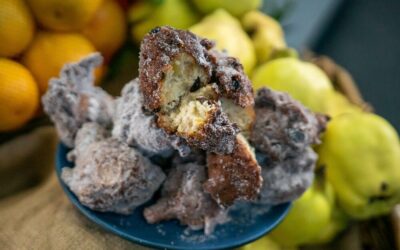 Ingredients: 150g raisins 100ml grappa 400g plain flour 10g yeast 115g sugar 2 eggs 150ml milk 30g toasted pine nuts Zest 1 orange Zest 1 lemon 50g chopped candied fruit Canola oil, for frying Method: Soak the raisins in grappa and let them plump up for 5  minutes,...