Chocolate and Pear Pikelets
Simone Austin
Serves 4
6 scoops Chocolate Ensure Powder
1 egg
1 cup milk
1 cup self raising flour
Pinch salt
1 tablespoon melted butter
Canned Pears, drained and sliced thinly
¼ teaspoon nutmeg
½ teaspoon cinnamon
1 teaspoon brown sugar
Extra virgin olive oil for frying
Beat the egg, milk and Chocolate Ensure powder together
Add the flour and salt and lastly the butter.
In a small bowl or cup mix the nutmeg, cinnamon and brown sugar together
Heat a pan with a little extra virgin olive oil and with a ladle add in some pikelet batter.
When the mixture bubbles turn over and cook until golden brown.
Serve and top with sliced pears and a sprinkle of the brown sugar and spice mix.
Repeat until all the batter is used.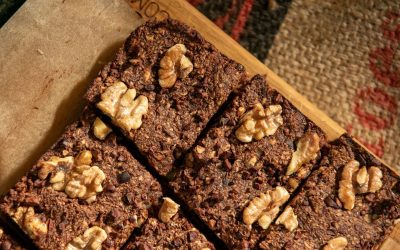 This recipe is brought to you with the help of our friends at JC's Quality Foods Ingredients: 1 ½ cups raw cashews 1 ½ desiccated coconut 3 medium ripe bananas, peeled and chopped 10 fresh dates, pitted 2 tsp vanilla extract ⅓ cup raw cacao powder ½ tsp bicarbonate of...