Chocolate Chilli Custard
Simone Austin
Serves 4
6 scoops Ensure chocolate powder
1/2 teaspoon chilli powder
1/3 cup raw sugar
2 tablespoons cocoa powder
3 tablespoons corn flour
2 eggs
2 cups full cream milk
Place milk into a saucepan and heat until hot but not boiling and turn off.
Whisk together sugar, corn flour, cocoa powder, eggs and Chocolate Ensure powder.
Pour the chocolate mixture gradually into the hot milk and whisk well to combine.
Heat gently for 1-2 minutes without boiling. Serve hot or cold.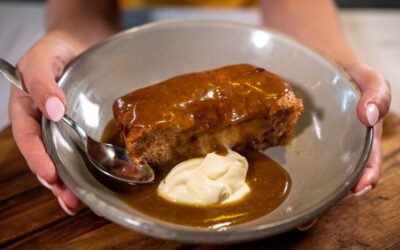 Ingredients: 185 g dates 1 cup water 60g butter 2 eggs 185g self raising flour 185g sugar 1tsp baking powder ½ tsp vanilla paste Butterscotch Sauce: 1 cup cream ¾ cup brown sugar 2 tbsp butter Pinch of salt Method: Bring the dates and water to a boil, then remove from...