Chocolate Mousse with Berries
Ben O'Donoghue
1 teaspoon instant coffee
150g dark chocolate, 64% minimum cacao
50g unsalted butter
1 tablespoon runny honey
1 tablespoon Tia Maria or other coffee liqueur
3 eggs, separated

1 cup cream
To Garnish
Sprigs of mint
Strawberries
Dissolve the instant coffee in 2 teaspoons of hot water. Place the chocolate, butter, honey and dissolved coffee in a heatproof bowl positioned over a saucepan of barely simmering water, making sure the bowl doesn't touch the water. Stir until the chocolate is melted.
Remove the bowl from the heat and stir in the Tia Maria and egg yolks. Allow to cool – when you dab some of the mixture on your lips, it should feel warm.
Use electric beaters to whisk the egg whites in a clean, dry bowl for 3–5 minutes, until foamy and soft peaks form. In a separate bowl, whip the cream to soft peaks, then keep chilled.
When the chocolate is cool, gently fold in a third of the chilled whipped cream. Gently fold in half the whisked egg white, keeping as much air in the mixture as possible. Fold in the remaining egg white, followed by the remaining cream.
Divide the mousse among six 1-cup serving glasses, or a large bowl, and chill for 4–6 hours to set.
Serve garnished with sprigs of mint and strawberries.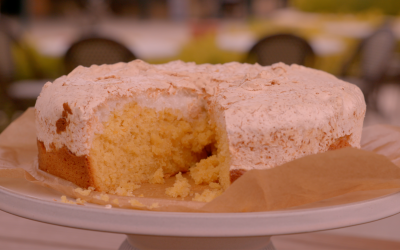 Ingredients:BASE 3 Egg Yolks 1/2 cup Caster Sugar 125g soft butter 2 cups Self-Raising flour 1 cup orange juice Vanilla   TOPPING 3 egg whites 1/2 cup caster sugar 1 cup desiccated coconut Method: Beat butter and sugar until creamy. Add yolks and vanilla. Fold in the...