Chocolate Pudding
Joel Feren
Serves 2
4x scoops Ensure chocolate powder
1 cup milk
½ cup cream
1 tbsp. caster sugar
1 tbsp. cornflour
1 tbsp. cocoa powder, sifted
2 tbsp. boiling water
2 egg yolks
Shaved dark chocolate and fresh berries to serve
Gently heat the milk and cream in a saucepan on a low heat. Do not bring the mixture to a boil.
In a mixing bowl, add sugar, cornflour, cocoa, Ensure powder and water and whisk to a paste.
Whisk in egg yolks, one at a time.
Add the mixture to the milk and cream pot and cook on a low heat. Gently whisk for 5 minutes or until consistency becomes yoghurt-like.
Take the pot off the heat and allow it to Transfer the mixture to small cups.
Cover the tops of the cups with cling wrap, allowing it to rest on the surface of the pudding. This prevents a skin from forming on the pudding.
Refrigerate for 1-2 hours or until set.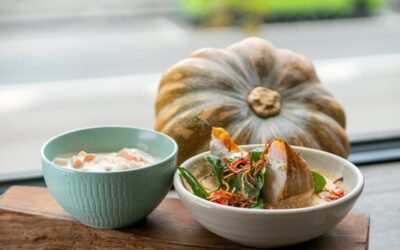 Ingredients: Serves: 2 Ingredients: 2x Wedges of Pumpkin (skin on) 1x can of coconut milk 30ml Soy Sauce (to taste) 1 tbsp of Tom Yum Paste 1 chilli, finely sliced 1 punch of Thai basil 1 tbsp fried shallots Bubur Cha Cha: Kara coconut cream 2litres Pandan leaves 6pcs...