Cinnamon Berry Smoothie Bowl
Simone Austin
Serves 1
1 1⁄2 cups frozen mixed berries
3 teaspoons chia seeds
1 cup natural yoghurt
3 scoops Ensure Vanilla Powder
3 tablespoons oats
1⁄2 teaspoon ground cinnamon
1⁄2 kiwifruit, sliced (try keeping the skin on)
1 tablespoon dry roasted almonds, roughly chopped
A few extra berries for decorating
Place berries, chia seeds, oats, yoghurt, Ensure powder and cinnamon in a blender and blend until thick
Pour into a serving bowl
Top with sliced kiwifruit, extra berries and chopped almonds.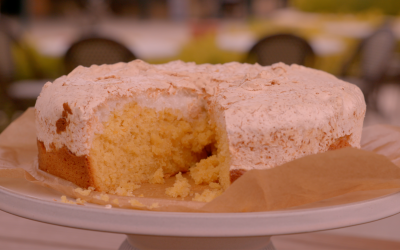 Ingredients:BASE 3 Egg Yolks 1/2 cup Caster Sugar 125g soft butter 2 cups Self-Raising flour 1 cup orange juice Vanilla   TOPPING 3 egg whites 1/2 cup caster sugar 1 cup desiccated coconut Method: Beat butter and sugar until creamy. Add yolks and vanilla. Fold in the...