Classic Chocolate Brownies
Khanh Ong
150g butter chopped
150g dark chocolate
3 eggs
275g caster sugar
1 tsp vanilla bean paste
100g plain flour
40g cocoa powder
A pinch of salt
Melt butter and chocolate together in a microwave on 30 sec intervals
Beat eggs, sugar and vanilla bean until creamy and pale
Fold together chocolate and egg mixture until mixed well.
Sift in flour, cocoa and salt and fold that through
Pour into individual bar tins that have been lined and bake at 180C for 25-30 minutes.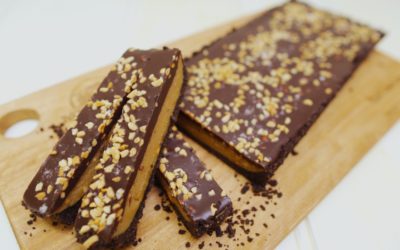 Ingredients: Base2 packets of Oreos¼ cup + 1 tbsp of melted butter1 pinch of saltFilling½ cup butter meltedCup brown sugar1 can condensed milk¼ cup of cream1 tsp salt1 cup crunchy peanut butter (or smooth)Topping150g milk chocolate chips50ml cream2 tbsp smooth peanut...