Coconut Rough Tart
Khanh Ong
250g choc ripple or chocolate biscuits
120g unsalted butter melted
150g chopped milk chocolate
250g chopped dark chocolate
1 cup of thickened cream
1⁄2 a cup of coconut oil
3 cups of shredded coconut
To Serve:
melted dark chocolate
toasted coconut flakes
place biscuits in a food processor and whizz until crumbs are formed. add butter and process till combined.
press crust into a fluted tart tin that's been greased
place into the fridge while we prep the filling
place chocolates, cream and coconut oil into a large microwave safe bowl and
microwave for 2 minutes stopping every 30 seconds until everything is melted and combined
add coconut and stir then pour over biscuit base and smooth on top.
set in the fridge to set for 2 hours.
drizzle tart with dark chocolate and scatter over coconut flakes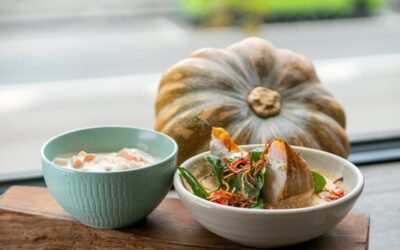 Ingredients: Serves: 2 Ingredients: 2x Wedges of Pumpkin (skin on) 1x can of coconut milk 30ml Soy Sauce (to taste) 1 tbsp of Tom Yum Paste 1 chilli, finely sliced 1 punch of Thai basil 1 tbsp fried shallots Bubur Cha Cha: Kara coconut cream 2litres Pandan leaves 6pcs...