Cold Soba Noodle (Zaru Soba)
Laura Sharrad
Recipe brought to you with the help of our friends at Asian Inspirations
Serves : 3
1 pack Hakubaku Organic Soba Noodle
Dashi Stock:
300ml water
4 each Shitake Mushroom
1 each Konbu seaweed (dry) (5cm x 3cm)
Soba Sauce:
300ml Dashi stock
70ml Murasaki Soy Sauce
70ml Obento Mirin Seasoning
Garnish:
Small amount S&B Wasabi
2 tbsp Spring onion (cut)
Small amount Kizami Nori
30g Daikon Radish
Boil 4~5L of water in a large deep pot. Cook the soba noodles by following the instructions on the packet or until it becomes the desired texture. Al dente is said to be the best texture for soba noodles.
Once the soba noodles are cooked, drain, cool in ice water.
Take out the noodles, drain excess water and serve with cold soba sauce and garnish. To eat, add desired amount of garnish in the soba sauce. Grab some noodles and dip halfway in the sauce before consuming. Soba noodles are best consumed within 5 mins after cooled for best texture and flavour.
Dashi Stock:
Combine all ingredients in a pot and leave for one night in the fridge. Take out the mushroom and seaweed.
Soba Sauce:
Combine all ingredients in a pot and heat to boiling point. Take off heat, cool to room temperature, then further cool in the fridge until cold.
Our friends at Wine Selectors suggest pairing this dish with a Riesling.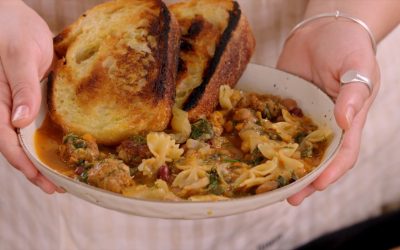 Ingredients: 4 Spicy Italian Sausages Packet of Farfalle Pasta 1 Leek 1 Carrot 1 Onion 2 Garlic 2 cups Shredded Cabbage 1 Chopped Silver Beet 1 400gm Tinned Beans 1 tsp Cumin powder 1 tsp Coriander  powder 1tsp Paprika powder 2 tbsp Tomato Paste Stock of your choice...