Corn and Coriander Hot Cakes
Ben O'Donoghue
Serves 4
1 ½ cups plain flour
1 teaspoon baking powder
4 eggs separated
1 cup butter milk
1 cup ricotta
1 cup corn frozen
1 small bunch coriander leaves chopped
1 lg smashed avo
200g chopped tomatoes
1/4 medium red onion sliced
1 clove of garlic chopped
100ml extra virgin olive oil
Combine the flour, baking powder and salt in a large bowl. Make a well in the centre and add the egg yolks and milk. Whisk until smooth.
Loosely fold in the ricotta, corn and the chopped coriander leaves. Season with salt and pepper.
Whisk the egg whites until they form soft peaks, then gently fold into the batter.
Melt a teaspoon of butter in a frying pan over medium heat. Drop in tablespoons of batter to form 6-8 cm round hotcakes, making sure that the mix is evenly distributed. Cook for
3–4 minutes, until lightly golden. Use a palette knife to turn over and continue to cook for another 2–3 minutes.
Cook the hotcakes in batches, keeping them warm under a tea towel or in the oven.
To serve top each hot cake with smashed avocado. For the tomato salsa combine the roughly chopped tomato with the slice red onion, chopped garlic, olive oil and slat and pepper.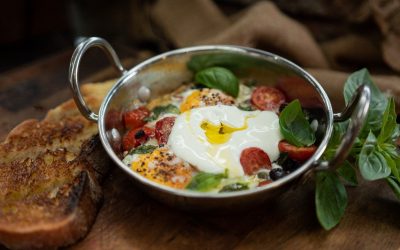 Ingredients: 9 cherry tomatoes, halved 1 small garlic clove, thinly sliced 2 tsp good-quality olive oil 1 tsp balsamic vinegar 5 basil leaves, torn, plus a few extra to serve if you like 5 pitted olives, sliced 2 large free-range egg 1 tsp small capers, rinsed salt...