Corn Fritters
Simone Austin
1 cup self-raising flour
2 eggs
100ml Glucerna liquid
2 x 420g cans corn kernels, drained
2 tablespoons chopped fresh basil
Chilli flakes if desired
100g fetta, crumbled
Butter to cook fritters with
Place flour into a large mixing bowl and make a well in the centre. Whisk eggs and Glucerna liquid in a jug and pour gradually into the flour, stirring gently to combine. Fold in corn, basil, pinch of chilli flakes if desired and fetta.
Heat pan and grease with butter. Drop 1/4 cup of mixture into the pan for each fritter. Cook a few at a time. Cook for about 2-3 mins, until golden brown underneath, then turn and cook the other side. Repeat with the butter and fritter mixture.
Serve with a side salad and chutney or sweet chilli sauce.
For more details on Glucerna, go to glucerna.com.au
Corn fritters make a great meal or snack at any time of the day. Make a big batch and freeze or keep in the fridge for a few days. You could experiment with different vegetable combinations.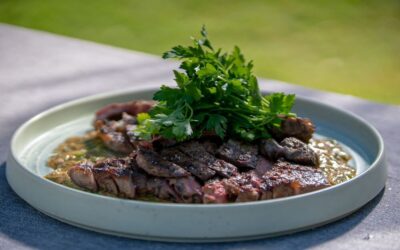 Ingredients: Serves: 2-4 2 x 250g T-bone or Rump steak Sea salt 2 Tbsp Olive oil 2 Tbsp Butter 1 brown onion, diced 2-3 cloves garlic, finely chopped 1 tsp dried chilli flakes 2 tsp dried mixed herbs 40 'twists' cracked black pepper 2 chicken stock cubes, crumbled 2-3...