Crepe Cake with Lemon Yoghurt Cream
Khanh Ong
Crepe cake:
3/4 cup of warm water
1 cup of milk
1/3 cup of Jalna greek yoghurt
5 large eggs
1/3 cup of melted butter plus more for cooking
1 1/3 cup plain flour
3 tbsp caster sugar
a pinch of salt
Greek Yoghurt Lemon Cream:
1 cup Jalna greek yoghurt
2 tbsp honey
Zest and juice of 1 lemon
1 tsp vanilla bean paste
To Serve:
2 whole lemons ( thinly sliced on a mandolin)
Icing sugar
Crepe Cake:
Place all the ingredients in a blender to blend
Heat a large flat pan add a tiny bit of butter and ladle in 3 tbsp of batter and cook for 30 secs each side
Remove and set aside and repeat. Once crepe is cool start to stack.
Greek Yoghurt Lemon Cream:
In a large bowl mix all the ingredients.
Set aside to layer
To Serve:
Place one crepe down and spread a thin layer of lemon yoghurt cream on top
Place another crepe down and repeat stacking as you go.
Top with lemon slices and powdered sugar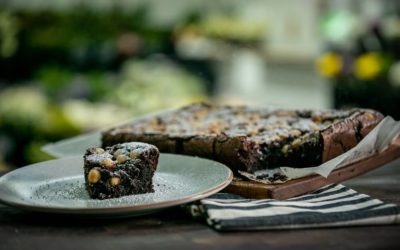 Ingredients: Makes 28 portions 12 eggs 800gm 900gm caster sugar 675gm 68% Madagascar chocolate 675gm-unsalted butter 225gm ground macadamia meal 225gm cocoa powder 300gm macadamia nuts Method: Preheat oven to 150 degrees Grease and line sponge tray with parchment...