Crispy Pork Belly with Ribbon Salad
Khanh Ong
1⁄2 kg Pork belly
2 tbsp Salt Flakes
3 tsp five spice powder
Ribbon Salad:
1 cucumber peeled into ribbon using a peeler
1 carrot peeled into ribbon using a peeler
4 radishes thinly sliced
1⁄4 cup of coriander
1⁄4 cup vietnamese mint
1⁄4 cup of mint
3 tbsp of nuoc mam dressing
To Serve:
To make the pork belly, score the skin of the pork
Rub scored skin with 1⁄2 tbsp of salt and leave to sweat in a fridge for 15 minutes then using a dry paper towel remove the moisture on the skin
Rub salt over the skin again
Rub spice mix onto the four sides and under each piece of pork leaving the skin.
Place in an oven at 180C for 40 – 50 minutes
Turn the heat up to 250C and cook for a further 10-15 minutes until skin is puffed
Ribbon Salad:
mix all the ingredients in a bowl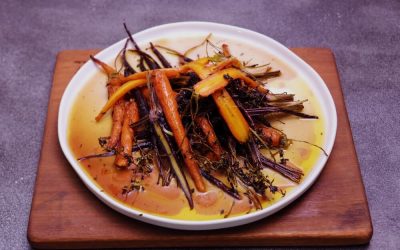 Join Elena Duggan as she creates her Honey Herbed Carrots recipe. Tune in to The Market kitchen each weekday on Channel 10.