Croque Madame
Ben O'Donoghue
Mornay Sauce
25gm unsalted butter
25gm Laucke plain flour
1 cup full cream milk
80gm Gruyere cheese grated
Salt
White pepper
For the Sandwich
Four thick slices white bread
100gm unsalted butter
2 tsp Dijon mustard
4 slices Gruyere cheese (80gm)
200gm sliced ham
1 recipe béchamel
2 large eggs
Preheat oven to 350°.
Make Mornay Sauce:
In a small saucepan over medium heat, melt butter. Add flour and stir until fragrant, 1 minute. Gradually whisk in milk and add salt, pepper. Bring to a simmer, whisking constantly, and cook until sauce thickens, 2 minutes. Remove from heat and stir in ½ Gruyère in the sauce recipe. Let cool 10 minutes.
Assemble Croque Monsieurs:
Spread each slice of bread with butter on one side, then flip over two slices and spread each with 1 teaspoon mustard and 2 slices of cheese. Top each slice with ½ the sliced ham and top with remaining bread slices. In a large ovenproof skillet over medium heat, melt the remaining butter toast bread on both sides until lightly golden. Evenly spread tops of each sandwich with the béchamel sauce, and sprinkle with remaining grated Gruyère cheese
Transfer oven proof pan to oven and cook until cheese is melty and top is golden, 15 to 18 minutes.
In a nonstick skillet over medium-high heat, melt butter. Crack eggs into the skillet and fry until whites are set, 3 minutes. Season with salt and pepper and top each sandwich with an egg.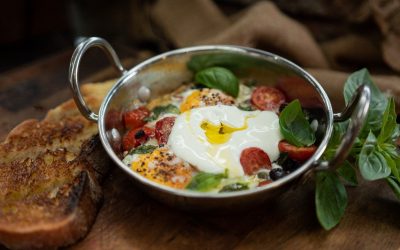 Ingredients: 9 cherry tomatoes, halved 1 small garlic clove, thinly sliced 2 tsp good-quality olive oil 1 tsp balsamic vinegar 5 basil leaves, torn, plus a few extra to serve if you like 5 pitted olives, sliced 2 large free-range egg 1 tsp small capers, rinsed salt...