Crumbed Lasagne Bites
Matt Sinclair
Makes 12-24
Leftover Lasagne
¼ cup plain flour
2 eggs
1-2 cups Panko crumbs
Anchovy Mayonnaise
1 large egg yolk
1 tsp Dijon mustard
½ tsp lemon zest
2 Tbsp lemon juice
1 cup light extra virgin olive oil
6-7 anchovy fillets in oil, drained, finely chopped
Sea salt
White pepper
Prepare mayonnaise (can be made in advance). Add the egg yolk, mustard, lemon zest and half of the lemon juice to a large mixing bowl. Whisk together to combine. Slowly drizzle in the olive oil while continuously whisking ingredients to emulsify. Once thickened, whisk in the remaining lemon juice, anchovy fillets and season to taste with salt and pepper. Refrigerate in a sealed container if making ahead of time.
Set up a breading station with 3 shallow bowls. 1 with flour, 1 with the eggs (lightly whisked), 1 with panko crumbs.
Cut the lasagne into bite-sized squares (approximately 1 inch). Carefully coat in flour, shake off the excess and transfer to the egg. Coat well and transfer to the panko. Gently press in the panko to ensure even coverage.
Heat oil or deep fryer to 180C. Fry the lasagne bites in batches until golden brown. Transfer to a paper towel and season with salt. Continue with remaining lasagne bites. Serve hot with anchovy mayo on the side.
Our friends at Wine Selectors suggest pairing this dish with a Sparkling Red.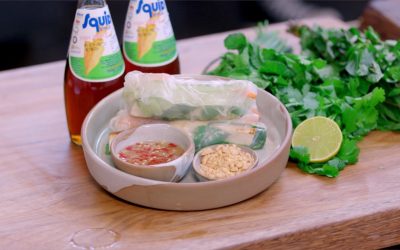 This recipe is brought to you by our friends at Asian InspirationsIngredients:Serves: 8 Prep Time: 10 mins Cook Time: 15 mins Main Ingredients: 1 packet rice paper 150g rice vermicelli noodles 1 bunch coriander 1 bunch Thai basil 1 bunch mint 1 bunch garlic chives 1⁄4...