Makes 12 crumpets
6 Crumpet rings
Oil spray
125ml water
10gm flour
20gm yeast
250gm semolina
250gm flour
3 eggs
125ml milk
375ml water
Yeast Mixture
Combine the flour water and yeast in a bowl and allow to activate (becomes bubbly)
Crumpets
Place all the ingredients in a blender and blend, then add the yeast mixture and blend to combine about 1-2 minute
Place the batter into a large bowl and allow to double in size
Place the crumpet rings onto your preheated electric sandwich press or bbq plate and spray with oil spray. Using a ladle fill each ring. Allow to cook until the tops are almost set, as this happens bubbles will appear and pop creating holes once the tops are almost set. Remove the mould and flip for 1 minute and repeat.
Then you can toast the crumpets to make them crispy and top with the honeycomb butter or whatever you like!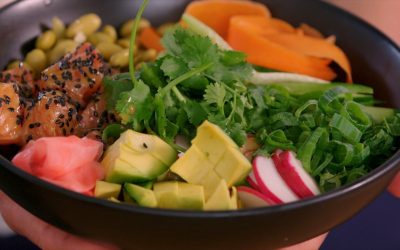 This recipe is brought to you by our friends at Healthy Life.Ingredients: 2 salmon fillets, skin off 1 cup edamame beans, frozen and blanched  1 Lebanese cucumber, sliced thinly 1 carrot, ribboned 1 avocado, diced 1/2 bunch spring onions, sliced 1 cup cooked brown...