Crusty White Bruchetta
Ben O'Donoghue
Homemade bread using Laucke Crusty White Mix
3 tomatoes, roughly chopped
Handful of basil, roughly chopped
2 garlic cloves
1tbsp olive oil
Salt and pepper to taste
Bake your bread according to box instructions.
After baked and cooled, toast up some slices and scrape with crushed garlic.
Top with tomato, basil and olive oil mixture and season with salt and pepper and serve.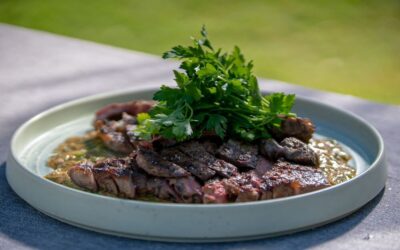 Ingredients: Serves: 2-4 2 x 250g T-bone or Rump steak Sea salt 2 Tbsp Olive oil 2 Tbsp Butter 1 brown onion, diced 2-3 cloves garlic, finely chopped 1 tsp dried chilli flakes 2 tsp dried mixed herbs 40 'twists' cracked black pepper 2 chicken stock cubes, crumbled 2-3...