Cuban Mojo Marinade
Elena Duggan
4-6 oranges, (375g) juice and zest
2-3 lemons, (125g) juice and zest
3-4 limes, (125g) juice and zest
1 bunch fresh oregano, leaves only, chopped
25g dried oregano leaves
1 tsp Cumin, ground
2 heads garlic, cloves crushed
2-3 jalapeños, sliced
15g salt
Protein
1.5-2kg organic, free-range chicken
or 2kg Turkey legs/ drumsticks
Use spent citrus to stuff chicken, before marinating whole chicken for up to 12 hours.
Smoke at 70-80 degrees for up to 12 hours, turning 3 times.
Alternatively, roast at 70-80 degrees for two hours, turning once, then for an additional 200 degrees at 15 minutes to crisp and brown skin.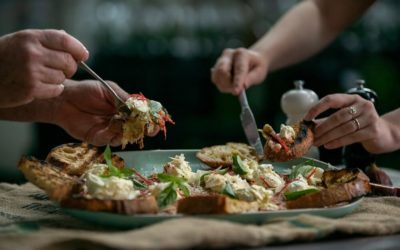 Ingredients: Serves 4 10 ripe figs 2 long red chillies ½ bunch basil Extra virgin olive oil 4 slices of sour dough bread 50g parmesan cheese 2 whole buffalo mozzarella ½ cup of crème criache Baking paper Method: Grill the chillies on your stovetop to blacken and...