Cuban Mojo Marinade
Elena Duggan
4-6 oranges, (375g) juice and zest
2-3 lemons, (125g) juice and zest
3-4 limes, (125g) juice and zest
1 bunch fresh oregano, leaves only, chopped
25g dried oregano leaves
1 tsp Cumin, ground
2 heads garlic, cloves crushed
2-3 jalapeños, sliced
15g salt
Protein
1.5-2kg organic, free-range chicken
or 2kg Turkey legs/ drumsticks
Use spent citrus to stuff chicken, before marinating whole chicken for up to 12 hours.
Smoke at 70-80 degrees for up to 12 hours, turning 3 times.
Alternatively, roast at 70-80 degrees for two hours, turning once, then for an additional 200 degrees at 15 minutes to crisp and brown skin.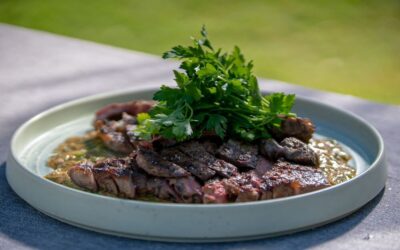 Ingredients: Serves: 2-4 2 x 250g T-bone or Rump steak Sea salt 2 Tbsp Olive oil 2 Tbsp Butter 1 brown onion, diced 2-3 cloves garlic, finely chopped 1 tsp dried chilli flakes 2 tsp dried mixed herbs 40 'twists' cracked black pepper 2 chicken stock cubes, crumbled 2-3...