Cucumber and Cuttlefish Som Yum
Zeb Gilbert
200g Cuttlefish, sliced into bite sized pieces and scored
20ml oil
Som Tum:
2 continental cucumbers, roughly chopped
5 baby cucumbers, julienned
200g yellow/green beans, roughly chopped
50g cashews
Dressing:
1 long chili, roughly chopped
4-6 birdseye chilis
4 Garlic cloves
1 limes, diced whole
2 tomatoes, roughly chopped
50g palm sugar
1tbsp fish sauce
1tbsp tamarind
Place well oiled cuttlefish onto a hibachi or BBQ and season with salt as cooking. Cook for 2-3 minutes each side or until perfectly cooked.
Bash your garlic, chili, and lime in mortar and pestle until broken down. Add in tomatoes and half your beans and bash until they have broken down as well
Add in your fish sauce, tamarind and palm sugar and combine well. Taste for seasoning at your own preference.
Combine cucumbers, half the cashews and dressing in a large bowl and toss. Add in cuttlefish and toss further. Top with remaining cashews and serve.
Our friends at Wine Selectors suggest pairing this dish with a Semillon.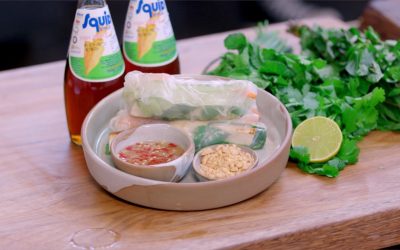 This recipe is brought to you by our friends at Asian InspirationsIngredients:Serves: 8 Prep Time: 10 mins Cook Time: 15 mins Main Ingredients: 1 packet rice paper 150g rice vermicelli noodles 1 bunch coriander 1 bunch Thai basil 1 bunch mint 1 bunch garlic chives 1⁄4...