Deconstructred Baba Ganoush
Naheda Hassan
Black tahini 100g
Parsley 1/2 bunch chopped finely for garnish
1 medium sized eggplant
1 pomegranate seeded. (as much as desired)
Chilli Paprika (for garnish
Cut medium sized eggplant in half lengthwise. Brush with olive oil. Heat a medium, non stick frying pan over high heat. Place eggplant face down in pan and cover with lid for approximately 4-5min or until soft to touch.
Once eggplant has caramelised and softened to touch, serve on a plate.
Score eggplant and drizzle tahini to blend flavours
Finely chop the parsley and sprinkle parsley and pomegranate on eggplant.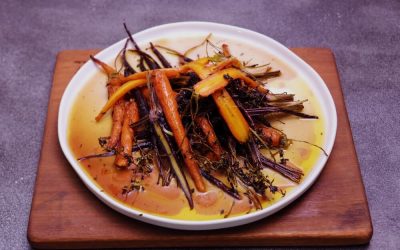 Join Elena Duggan as she creates her Honey Herbed Carrots recipe. Tune in to The Market kitchen each weekday on Channel 10.