Duck with Fennel and Orange Salad
Khanh Ong
Pan Seared Duck:
1 tsp cumin seeds
1 tsp fennel seeds
1⁄2 tsp chili flakes
1 tsp black peppercorns
1⁄2 tsp salt
1 duck breast
200ml orange juice
100ml madeira
1 tbsp red wine vinegar
2 star anise
2 tsp caster sugar
30g butter
Orange and fennel salad:
1⁄2 a bulb of fennel shaved
2 oranges segmented
1⁄4 cup of pomegranate
1 cup of watercress
1⁄2 red onion sliced
1⁄4 cup of walnuts
Toast all the spices, except the star anise in a dry pan then crush in a mortar and pestle with salt.
Cross score the skin of the duck and rub the entire breast with spice rub
Place skin side down in a cold pan on medium heat and cook for 8-12 minutes.
Flip and cook for another 8-10 minutes on the other side.
Remove and set aside covered with foil for 10 minutes.
Pour orange juice, madeira, vinegar, star anise and sugar in the same pan and reduce by 3⁄4
Add butter and use to sauce to dress the duck.
Orange and fennel salad Method:
Toss all the ingredients together in a bowl and serve with the duck and sauce
Our friends at Wine Selectors recommend pairing this dish with a Pinot Noir.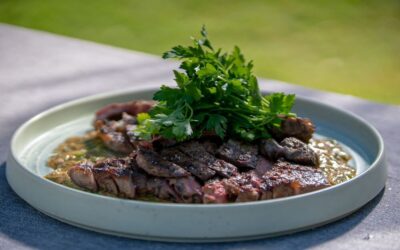 Ingredients: Serves: 2-4 2 x 250g T-bone or Rump steak Sea salt 2 Tbsp Olive oil 2 Tbsp Butter 1 brown onion, diced 2-3 cloves garlic, finely chopped 1 tsp dried chilli flakes 2 tsp dried mixed herbs 40 'twists' cracked black pepper 2 chicken stock cubes, crumbled 2-3...