Dukkah Crusted Lamb Chops
Ben O'Donoghue
Serves 4
2 garlic cloves
2 tablespoons olive oil
3 bunches heirloom baby carrots (about 6 baby carrots each, or 4 regular cut into sticks)
2 tbsp molasses
110g (/1 cup) dukkah
12 French trimmed lamb cutlets
Salt and freshly ground black pepper
200g tub of hummus
1 tbsp sumac
30g (1/2 cup) roughly chopped mixed flat-leaf (Italian) parsley and mint
60g (1/4 cup) plain yoghurt
Preheat the oven to 180°C (350°F).
In a mortar and pestle, pound the garlic with a pinch of salt into a smooth paste, then add the oil. Toss the carrots with the garlic oil in a bowl.
Line a baking tray with baking paper and then place the carrots in a single layer and roast in the oven for 20 minutes until tender. Remove from the oven and drizzle over the molasses and sprinkle with a good pinch of dukkah. Return to the oven to roast for a further 5 minutes.
Meanwhile, heat a large non stick frying pan over medium heat no oil needed. Season the lamb cutlets with salt and pepper and cook for about 3–4 minutes, on each side, for medium. Once cooked to your liking, remove from the pan onto a paper towel lined plate to soak up any juices and fat. Using a butter knife to smear each cutlet with hummus and then dip it into the remaining dukkah ensuring that they are well coated.
Remove the carrots from the oven and transfer to a bowl. Toss with the sumac and the chopped herbs. Any left-over hummus can be smeared onto a serving plate with the carrots arranged on top and then dolloped with yoghurt and sprinkled with any left-over herbs. Finally arrange the dukkah lamb cutlets on top.
These are great on their own as a little party snack, or served with a warm salad of roasted root veg and herbs they make a fuss-free week-night meal.
Our friends at Wine Selectors suggest pairing this dish with The Islander Reserve Bark Hut Road Shiraz Cabernet Franc 2014 or a Springs Road Cabernet Sauvignon 2017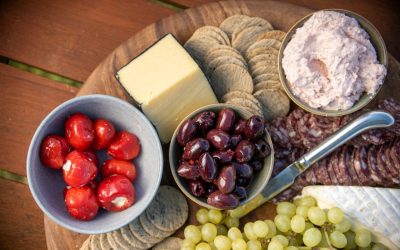 Ingredients: Hard Cheese Soft Cheese Blue Cheese 1 baguette  A bunch of Green Grapes Honeycomb Salami (sliced) Smoked Salmon Dip Artisan Crackers Beetroot dip Poppy Seed Skordalia Dip Dukkah Stuffed Bell Peppers Marinated Olives (pitted) Method: There are no rules or...