Dulce de Leche & Chocolate cookies
Mike Reid
Serves 4 to 6
150g plain flour
1/2 tsp fine sea salt
1/2 tsp bicarbonate of soda
110g soft unsalted butter
85g soft light brown sugar
1 tsp vanilla paste or extract
1 large free-range egg
170g dark chocolate chips
80g Dulce de leche
Vanilla ice cream to serve
Preheat the oven to 180C/160C Fan/Gas 4.
Measure the flour, salt and bicarbonate of soda into a bowl, forking together to mix.
With an electric mixer, or by hand, beat the butter and sugar until you have a light and creamy mixture, then add the vanilla paste or extract and the egg, beating again to incorporate.
Gently fold in the flour mixture, then, once it's all mixed in, fold in the chocolate chips.
Add mixture to cast iron dish and top with dulce de leche and add additional chocolate chips. Bake for 15-18 minutes until golden on top but still gooey inside
Rest for 3 minutes on coming out of the oven and serve.
Our friends at Wine Selectors suggest pairing this dish with a Liqueur Muscat.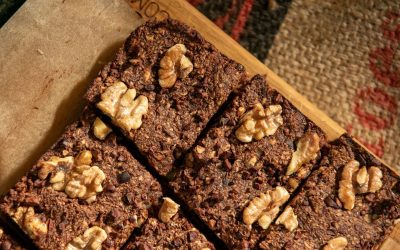 This recipe is brought to you with the help of our friends at JC's Quality Foods Ingredients: 1 ½ cups raw cashews 1 ½ desiccated coconut 3 medium ripe bananas, peeled and chopped 10 fresh dates, pitted 2 tsp vanilla extract ⅓ cup raw cacao powder ½ tsp bicarbonate of...