Dumpling Skin / Curry Prawn Dumplings
Elena Duggan
Dough
250g Plain flour
Up to 150g Warm to hot water, recently boiled
Filling
500g Prawn flesh, roughly diced
2lge Green spring onions, finely diced
100g Snow peas, finely diced
25g Ginger, finely grated
25g Stevia, or to taste
1 packet/ 92g Packet S&B Golden Curry Mix – Mild
100g Water, recently boiled, less or more may be desired
25g Sesame oil, for cooking
25g Peanut oil, for cooking
Dipping Sauce
50g Tamari
50g Rice vinegar
25g Sesame oil
10g Stevia
10g Fresh ginger, finely grated
For the dough, place the flour in the bottom of a large bowl, gradually add water while mixing until starting to pull away from the sides of the bowl, then work into a smooth dough whilst kneading with hands. Cover in plastic wrap and set aside for minimum 30minutes.
Using your hands, create a donut or ring shape by gently working the dough from the centre out, gently pulling while rolling through hands until diameter is approximately 2.5cm.
Cut 2.5cm lengths approx. 10g in weight each, turning dough tube 180degrees each cut. Set aside each piece.
Lightly flour the surface of your board or bench, and using a small rolling pin, roll each piece into a dumpling wrapper rolling with one hand and rotating with the other hand. The centre of the skin will naturally be a little thicker using this method.
For the filling, place prawns, spring onions, snow peas, ginger and stevia in a bowl and stir thoroughly to combine. Mix curry and half of water in a small jug, and then pour the mix into a bowl. Thoroughly combine, mix needs to be a little more moist, add more water – mix should hold, but be slippery.
Place dumpling skins on a lined tray with baking paper.
Brushed edges with water.
Fold middle bottom to middle top and pinch to seal. Pinch and fold left to middle till closed, then right to middle till closed, and approximately three pleats each side of centre.
Place oils in a large non-stick fry pan, heat to medium. Place flat sides of dumpling into the fry pan. Fry base for 1-3minutes or until golden and crispy.
Pour 50-100ml of water on the bottom of the fry pan and place lid on top – allow dumplings to fry from the bottom and team from the top – 5-10minutes should be enough – serve with dipping sauce.
Whilst dumplings are steaming, prepare the dipping sauce by stirring together in a small bowl.
Egg-free
Lactose free
Nut free
Vegetarian – replace prawns with a mix of green vegetables
Zero refined sugar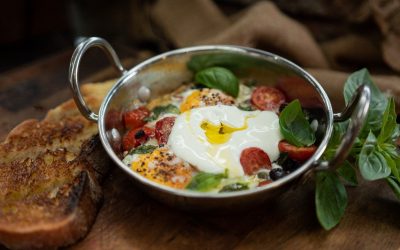 Ingredients: 9 cherry tomatoes, halved 1 small garlic clove, thinly sliced 2 tsp good-quality olive oil 1 tsp balsamic vinegar 5 basil leaves, torn, plus a few extra to serve if you like 5 pitted olives, sliced 2 large free-range egg 1 tsp small capers, rinsed salt...