Eggs Florentine
Joel Ferren
1 scoop Glucerna powder
125g frozen spinach, thawed
Pinch of nutmeg
1 egg
1 tbsp. butter
2/3 cup full cream milk
1 1⁄2 tbsp. flour
1 tbsp. finely grated parmesan cheese
1 tbsp. finely grated parmesan cheese, extra
1⁄2 tbsp. breadcrumbs
Preheat oven to 180°C.
Thoroughly drain spinach, pressing down to extract moisture. Stir in Glucerna powder and nutmeg. Place into the base of a small ovenproof dish.
Using a spoon, make a slight hollow well in the centre of the spinach.
Lightly poach egg and place onto spinach.
Place milk into a small saucepan with butter and flour. Whisk over a medium heat until smooth and until sauce boils. Simmer for a further 1 minute. Remove from heat and whisk in cheese.
Spoon mixture over eggs and spinach. Sprinkle with combined parmesan cheese and breadcrumbs.
Bake for 10 minutes or until heated through and lightly browned.
For more details on Glucerna, go to glucerna.com.au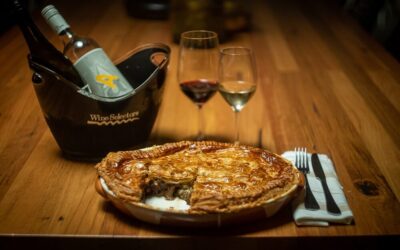 Ingredients: 1kg of chuck, flank, shin or brisket trimmed and cut into 3cm cubes 2 clove of garlic 1 small bunch of thyme 1 tspn of black peppercorns 500ml Guinness or dark ale 8 shallots peeled 1 tbsp vegemite 500gm bought puff pastry 100gm Stilton blue cheese or...