Elvis Quesadillas
Elena Duggan
50-100g Peanut butter, organic, sugar free, salt free or homemade
4 med Bananas, sliced in 5-7mm discs, as under ripe but edible as possible
4-8 rashers Bacon, depending on size, two strips should cover width of wrap
50-75g Honey
4 gluten free Black Rice Simsons Pantry Wraps
Butter to toast
Fry or grill bacon in fry pan or in oven-grill until just cooked through but not overly crispy.
Place wraps into a sandwich press or microwave for 20-30 seconds to warm.
Spread peanut butter over almost half of wrap, about 1 cm from the edges, as it will ooze on heating.
Preheat non-stick fry pan, and melt a small amount of butter in the base.
Place slices of banana over peanut butter, bacon and drizzle honey as desired over the top.
Fold wraps in half, closing empty half over full half and gently place into fry pan, you should be able to cook two at a time. If desired and easy, flip after 2 minutes to toast both sides for more even heating.
Cut in half and serve immediately.
For extra indulgence, serve with whipped cream or ice cream.
This is a sometimes food – however, this dish isn't a terrible option when craving sweet savoury foods, or requiring a 'treat' if using:
best quality peanut butter available,
organic nitrate free bacon,
organic green bananas
organic honey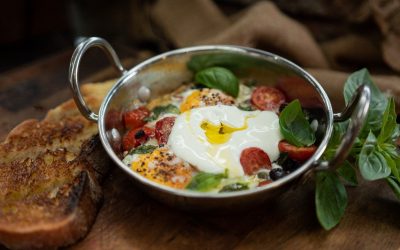 Ingredients: 9 cherry tomatoes, halved 1 small garlic clove, thinly sliced 2 tsp good-quality olive oil 1 tsp balsamic vinegar 5 basil leaves, torn, plus a few extra to serve if you like 5 pitted olives, sliced 2 large free-range egg 1 tsp small capers, rinsed salt...