End of Week Ginger & Carrot Soup
Khanh Ong
1 tsp EVOO
1 medium onion finely chopped
2 cloves of crushed garlic
one thumb sized piece of ginger grated
2 tsp ground cumin
1 tsp garlic powder
1 bay leaf
200g sweet potato peeled and grated
2 large carrots (350g) peeled and grated
500ml Massel chicken stock
a pinch of salt
TO SERVE:
60g Jalna Biodynamic yoghurt
Chopped chives
White pepper
In a medium pot on medium heat, add EVOO and onions. cook for 4-5 minutes until onions are softened
Add garlic, ginger, cumin, garlic powder and bay leaf for 1 minute until aromatic.
Add sweet potato, carrots, chicken stock and salt. Reduce heat to low and cook for 8-12 minutes until soft.
Set aside to cool and then remove bay leaves and blend veg.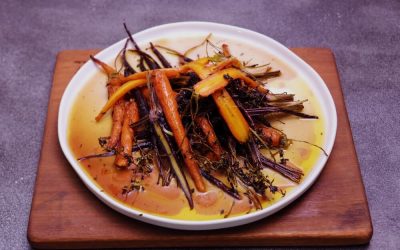 Join Elena Duggan as she creates her Honey Herbed Carrots recipe. Tune in to The Market kitchen each weekday on Channel 10.