End of Week Ginger & Carrot Soup
Khanh Ong
1 tsp EVOO
1 medium onion finely chopped
2 cloves of crushed garlic
one thumb sized piece of ginger grated
2 tsp ground cumin
1 tsp garlic powder
1 bay leaf
200g sweet potato peeled and grated
2 large carrots (350g) peeled and grated
500ml Massel chicken stock
a pinch of salt
TO SERVE:
60g Jalna Biodynamic yoghurt
Chopped chives
White pepper
In a medium pot on medium heat, add EVOO and onions. cook for 4-5 minutes until onions are softened
Add garlic, ginger, cumin, garlic powder and bay leaf for 1 minute until aromatic.
Add sweet potato, carrots, chicken stock and salt. Reduce heat to low and cook for 8-12 minutes until soft.
Set aside to cool and then remove bay leaves and blend veg.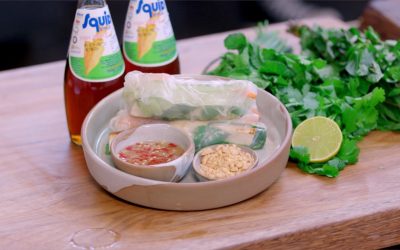 This recipe is brought to you by our friends at Asian InspirationsIngredients:Serves: 8 Prep Time: 10 mins Cook Time: 15 mins Main Ingredients: 1 packet rice paper 150g rice vermicelli noodles 1 bunch coriander 1 bunch Thai basil 1 bunch mint 1 bunch garlic chives 1⁄4...