Fairy Bread Slice
Khanh Ong
220g unsalted butter softened
220g softened cream cheese
250g caster sugar
2 large room temp egg
2 tsp vanilla paste
300g plain flour
1 tsp baking powder
A decent pinch of salt
200g rainbow sprinkles
To Serve:
Beat butter, cream cheese and sugar until creamy inn a stand mixer.
Add eggs and vanilla paste until combined
Add flour, baking powder and salt until combined.
Gently fold in sprinkles.
Spread into a lined baking tin and bake for 50-55 mins at 180C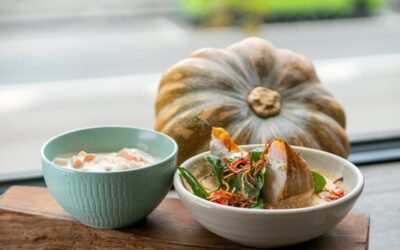 Ingredients: Serves: 2 Ingredients: 2x Wedges of Pumpkin (skin on) 1x can of coconut milk 30ml Soy Sauce (to taste) 1 tbsp of Tom Yum Paste 1 chilli, finely sliced 1 punch of Thai basil 1 tbsp fried shallots Bubur Cha Cha: Kara coconut cream 2litres Pandan leaves 6pcs...