Fairy Bread Slice
Khanh Ong
220g unsalted butter softened
220g softened cream cheese
250g caster sugar
2 large room temp egg
2 tsp vanilla paste
300g plain flour
1 tsp baking powder
A decent pinch of salt
200g rainbow sprinkles
To Serve:
Beat butter, cream cheese and sugar until creamy inn a stand mixer.
Add eggs and vanilla paste until combined
Add flour, baking powder and salt until combined.
Gently fold in sprinkles.
Spread into a lined baking tin and bake for 50-55 mins at 180C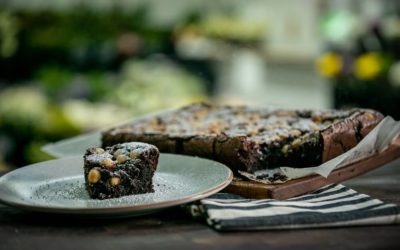 Ingredients: Makes 28 portions 12 eggs 800gm 900gm caster sugar 675gm 68% Madagascar chocolate 675gm-unsalted butter 225gm ground macadamia meal 225gm cocoa powder 300gm macadamia nuts Method: Preheat oven to 150 degrees Grease and line sponge tray with parchment...