Fairy Bread Slice
Khanh Ong
220g unsalted butter softened
220g softened cream cheese
250g caster sugar
2 large room temp egg
2 tsp vanilla paste
300g plain flour
1 tsp baking powder
A decent pinch of salt
200g rainbow sprinkles
To Serve:
Beat butter, cream cheese and sugar until creamy inn a stand mixer.
Add eggs and vanilla paste until combined
Add flour, baking powder and salt until combined.
Gently fold in sprinkles.
Spread into a lined baking tin and bake for 50-55 mins at 180C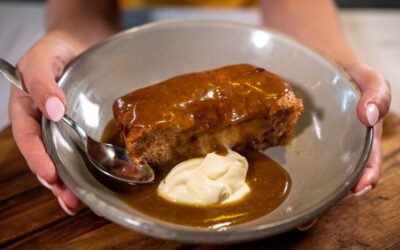 Ingredients: 185 g dates 1 cup water 60g butter 2 eggs 185g self raising flour 185g sugar 1tsp baking powder ½ tsp vanilla paste Butterscotch Sauce: 1 cup cream ¾ cup brown sugar 2 tbsp butter Pinch of salt Method: Bring the dates and water to a boil, then remove from...