Fairy Bread Slice
Khanh Ong
220g unsalted butter softened
220g softened cream cheese
250g caster sugar
2 large room temp egg
2 tsp vanilla paste
300g plain flour
1 tsp baking powder
A decent pinch of salt
200g rainbow sprinkles
To Serve:
Beat butter, cream cheese and sugar until creamy inn a stand mixer.
Add eggs and vanilla paste until combined
Add flour, baking powder and salt until combined.
Gently fold in sprinkles.
Spread into a lined baking tin and bake for 50-55 mins at 180C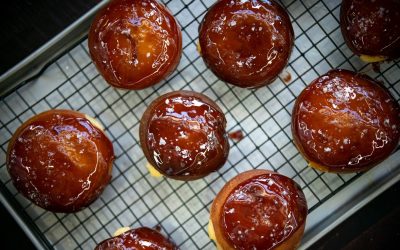 Ingredients:Makes 12 donuts Oil, for frying For the Dough: 1 cup lukewarm milk 1 tbsp dried yeast 1/3 cup caster sugar 3 egg yolks 1 tsp vanilla paste 4 tbsp soft butter 4 1/4 cups plain flour For the Custard: 1/2 cup sugar 3 tbsp cornflour 2 cups milk 4 yolks 2 tsps...