Fermented Cauliflower
Mandy Hall & Warren Mendes
1/2 head of cauliflower, outer leaves removed and retained, cauliflower chopped into florets.
1 clove of garlic – peeled & sliced in half
1 tsp of sultanas or raisins (optional)
6 black peppercorns
1/4 tsp turmeric
1/4 tsp curry powder
3/4 cup filtered water
1/4 cup warm filtered water
Sea Salt – 2% of the total weight of ingredients, including the water.

If total ingredients weigh 500g – 500g x 2% =10g salt (see notes)

Apple weight option – 1/2 apple slice horizontally through the middle.
Make sure your jar and lid are washed, clean and dry.
Keep Cauliflower leaves for another recipe.
Dissolve salt by whisking it along curry powder and turmeric into the warm water and set aside.
Place cauliflower florets, black peppercorns, garlic and raisins/sultanas into jar, add the 1/4 cup of water with spices, add additional water and fill, leaving an inch of headroom from the top. Ensure that all ingredients are kept underneath the saltwater brine by weighing down with a half apple or suitable weight. Lid your jar with either an airlock lid or a sturdy jar lid.
Place your Cauliflower ferment in a spot at room temp & out of direct sunlight; fermentation will begin, and you should start to see some activity within two days; after day 2, please burp the jar each day until you have finished fermenting. Once ready (anywhere from 7 days to 14 days), discard the apple or remove the weight, place the lidded jar into the fridge and enjoy as desired; it will last for approximately three months.
Notes:
Make sure all of the equipment has been washed and is clean and dry before use. Make sure the jar is a good strong glass jar.
Salt – please use natural sea salt.
This Cauliflower pickle is an anaerobic ferment – we want to keep the oxygen out; airlocks are the perfect way to do this. Airlocks stop oxygen from getting in but allow any gases to escape. Alternatively, a lidded jar also works very well; you will need to gently "burp" the jar each day after day 2 in this case.
Our friends at Wine Selectors suggest pairing this dish with a Semillon.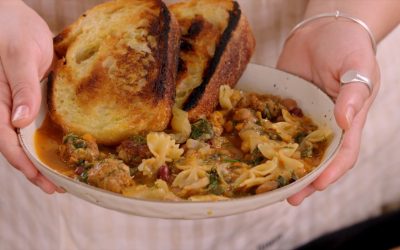 Ingredients: 4 Spicy Italian Sausages Packet of Farfalle Pasta 1 Leek 1 Carrot 1 Onion 2 Garlic 2 cups Shredded Cabbage 1 Chopped Silver Beet 1 400gm Tinned Beans 1 tsp Cumin powder 1 tsp Coriander  powder 1tsp Paprika powder 2 tbsp Tomato Paste Stock of your choice...