Fermented Sauerkraut
Mandy Hall
1/2 Red Cabbage (approx 1KG)  – finely sliced (washed outer leaves and set aside)
1/4 Red onion – sliced
1-2 inch piece of fresh ginger grated
1 tsp of caraway seeds – optional
Sea Salt – 2% of the total weight of ingredients (see notes)
Make sure your jar and lid are washed, clean and dry.
Finely and evenly slice or mandolin the cabbage, add to the mixing bowl, sprinkle the measured salt over the cabbage – for this recipe, you can simply weigh your cabbage to calculate the salt as the rest of the ingredients are minimal. (1000g x 2 % = 20g of salt)
Massage and scrunch the salt into the cabbage and leave to sit for a few minutes; return the cabbage and repeat until it is dripping with liquid. Add sliced red onion & caraway, mix well.
Pack the contents of the bowl into the pressing down as you go, you can use your hand, a wooden spoon or a muddler if you have one. As you pack, the aim is to ensure the cabbage is covered in brine. Make sure you leave at least 2cm of room from the cabbage to the top of the jar, take a clean outer leaf of cabbage and fold it to push into the jar and cover the top, place weight on top of the leaf and seal the jar using either a traditional lid or airlock lid.
Place your Kraut in a cool spot (between 15 and 20 degrees is ideal) & out of direct sunlight, your cabbage will begin to ferment, and you should start to see some activity within two days; you can eat from day five onwards but two weeks is ideal. Once ready (anywhere from 4 days to 14 days), discard the leaf and remove the weight, place the sealed jar into the fridge where it will keep for months – if it lasts that long!
Serving suggestions – with any meal, as a side, in tacos, salads or as a stand-alone snack.
Notes:
Make sure all is equipment has been washed and is clean and dry prior to use. Make sure the jar is a good strong glass jar.
Salt – please use natural sea salt.
This is an anaerobic ferment – we want to keep the oxygen out; airlocks are the perfect way to do this.  Airlocks stop oxygen from getting in but allow any gases to escape. Alternatively, a lidded jar also works very well; you will need to gently "burp' the jar each day after day 3  in this case.
Our friends at Wine Selectors suggest pairing this dish with a Gewurztraminer.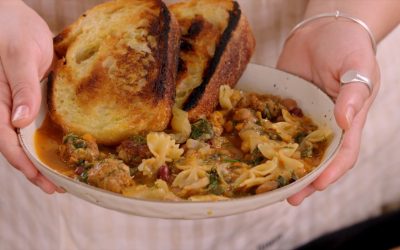 Ingredients: 4 Spicy Italian Sausages Packet of Farfalle Pasta 1 Leek 1 Carrot 1 Onion 2 Garlic 2 cups Shredded Cabbage 1 Chopped Silver Beet 1 400gm Tinned Beans 1 tsp Cumin powder 1 tsp Coriander  powder 1tsp Paprika powder 2 tbsp Tomato Paste Stock of your choice...