Fettuccine Carbonara
Ben O'Donoghue
250g egg pasta, of your choice
200g pancetta cut into lardons or thin strips
1 whole egg
2 egg yolks
100ml full cream
50g
Freshly cracked black pepper
2tbsp extra virgin olive oil
1 clove of garlic
To start the sauce, heat the olive oil in a sauté pan or large fry pan.
Add the pancetta and fry until crisp and set the pan aside keep warm
Cook the pasta in a large pot of salted water, stirring occasionally.
Rub a bowl with the clove of garlic pressing hard to break the clove and leave the flavour in the bowl. Then mix the cream with eggs in the bowl and mix well.
When the pasta is cooked drain and add to the pancetta pan carry a little pasta water with the pasta.
Return the pan to the heat and add the egg mixture.
Season with cracked black pepper grated parmesan and gently heat to thicken the egg sauce, mixing well
Serve the pasta in a warm bowl with lashings of extra parmesan.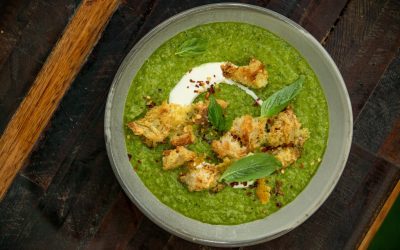 Ingredients: 2 heads broccoli 1 large leek, halved lengthwise, rinsed 2 tbsp extra virgin olive oil 1 head garlic, unpeeled 4 cups (1L) chicken or vegetable stock 120g baby spinach leaves 125g sour cream, plus extra to serve Chilli flakes & herbs, such as basil,...