Fig Carpaccio
Ben O'Donoghue
Serves 4
10 ripe figs
2 long red chillies
½ bunch basil
Extra virgin olive oil
4 slices of sour dough bread
50g parmesan cheese
2 whole buffalo mozzarella
½ cup of crème criache
Baking paper
Grill the chillies on your stovetop to blacken and blister. Then place in a small bowl and wrap in cling film to steam. Once cold peel of the skin and remove the seeds. Then cut into strips
Cut the figs in half. Place half a fig skin side up one at a time between a folded sheet of baking paper and flatten with a small plate or better still a tortilla press. Turn the pressed figs on to a flat platter.
Season the figs with salt and pepper, drizzle with extra virgin olive oil
Cut the mozzarella balls into 1/4s and fold the crème Fraiche with the mozzarella. Drizzle this with some extra virgin olive oil.
Arrange the mozzarella over the figs in a random pattern. Place the ribbons of chilli over the mozzarella and then garnish with the basil leaves
Toast the sour dough and then drizzle with more olive oil.
Finally using a micro plane grate a flurry of parmesan cheese over everything.
For chef quality results, we recommend using Anolon cookware!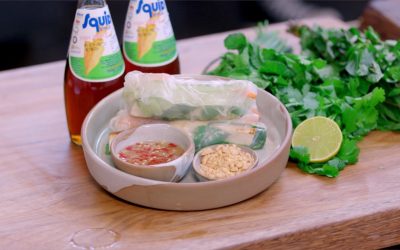 This recipe is brought to you by our friends at Asian InspirationsIngredients:Serves: 8 Prep Time: 10 mins Cook Time: 15 mins Main Ingredients: 1 packet rice paper 150g rice vermicelli noodles 1 bunch coriander 1 bunch Thai basil 1 bunch mint 1 bunch garlic chives 1⁄4...