Serves: 4
200g King George whiting, cut into strips
8 small soft shell taco wraps
¼ Red cabbage, thinly sliced
Canola Oil for frying
Tempura Batter:
100g Rice Flour
100g 00 Flour
10ml Ice cold sparkling
Green Chilli Sauce:
2 ripe kiwi fruit
4 spring onions
1 fresh jalapeño or green chilli
1 bunch of fresh coriander, (30g)
2 limes, juiced
2 tbsp chipotle sauce
To make the batter, mix the rice and 00 flour together with the iced cold sparkling water, season with a touch of salt and pepper.
Peel the kiwi fruit, cut in half and put into a large dry non-stick frying pan on a medium heat with the green halves of the spring onions and the deseeded chilli.
Lightly scald it all, turning every now and again, then place in a blender with half the coriander, the juice of 1 lime and a few drops of chipotle sauce. Blitz until smooth, then taste and season.
Warm your wraps in the oven wrapped inside a damp towel. Coat your fish in the batter and then gently fry it off until golden and crispy before draining on a towel.
Assemble your tacos and enjoy.
Our friends at Wine Selectors suggest pairing this dish with a Gruner Veltliner.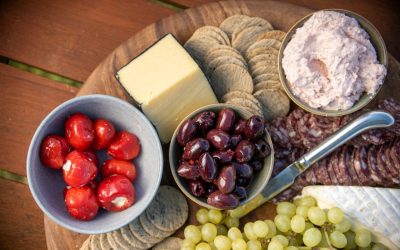 Ingredients: Hard Cheese Soft Cheese Blue Cheese 1 baguette  A bunch of Green Grapes Honeycomb Salami (sliced) Smoked Salmon Dip Artisan Crackers Beetroot dip Poppy Seed Skordalia Dip Dukkah Stuffed Bell Peppers Marinated Olives (pitted) Method: There are no rules or...