Makes 8 Flatbreads.
½ cup Ensure vanilla powder
250g self-raising flour
300g Greek yoghurt
Pinch of salt
Oil for cooking
In a large mixing bowl, combine the ingredients. Gently knead into a ball. Leave dough to rest for 20 minutes at room temperature.
Divide the dough into 8 mounds and roll into balls.
Heat a small amount of oil in a frying pan over a high heat and roll the flatbread using a rolling pin.
Place the dough into the frying pan and flash-fry for 20-30 seconds or until browned.
Turn the flatbread and cook for a further 20 seconds.
Set aside to cool before serving. Serve warm.
Serve with dip, in a kebab or as a wrap.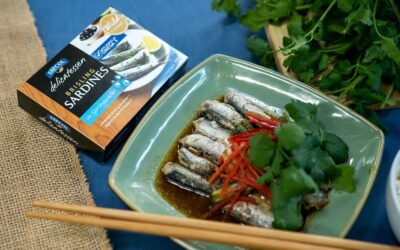 Ingredients: 110g Safcol Sardines in Springwater, drained 2 tbsp oil 1 clove garlic, sliced 2 slices ginger, julienned 2 spring onions, cut to 2cm lengths 1 tbsp brandy (you may substitute this with Chinese cooking wine) 2 tsp black bean sauce (available in the Asian...