Garlic and Chive Parmesan Mash
Simone Austin
Serves: 4
1.5kg potatoes, peeled and cubed
5 scoops Ensure Vanilla Powder
½ cup milk
¼ cup extra virgin light olive oil
4 cloves garlic, peeled, squashed but not chopped
Salt to season
Cracked black pepper
3 tablespoons chopped fresh chives
3 tablespoons grated parmesan cheese
Put the peeled potatoes and squashed garlic cloves and a sprinkle of salt into a large saucepan and cover with cold water and put on the lid.
When boiling move the lid so they are only partially covered and cook until tender.
While cooking, mix the ensure powder with the milk until smooth.
Once the potatoes are cooked drain the potatoes over a colander collecting the liquid into a large bowl.
Add the oil and chives into the pan with the potatoes and garlic. Add 3/4 cup of the reserved liquid and the Ensure milk mix and mash until smooth.  You may need to add more of the water.
Stir in the parmesan cheese and season with salt and pepper to taste. It is ready to serve.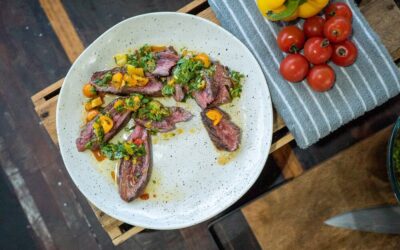 Ingredients: Serves: 4 800g Hanger Steak Sea Salt 1 small yellow pepper, seeds removed, roughly chopped 6 Yellow baby Tomatoes 1 small red chilli, seeds removed ½ tsp dried flaked chillies 2 Garlic cloves, peeled 20g fresh parsley, including any tender stalks 10g each...