Gnocchi with Pesto
Laura Sharrad
1kg royal blue potatoes, boiled and mashed
250g 00 flour
Salt
Pesto:
200g picked basil leaves
80g pine nuts
50g grated parmigiano reggiano
250ml extra virgin olive oil
2 garlic cloves
Sea salt flakes
Freshly cracked black pepper
Add all your ingredients into either a small food processor or a jug with a barmaid and blitz until smooth, combined and almost creamy like in texture.
For the Gnocchi, peel and quarter potatoes. Boil in salted water until tender then drain in a colander and allow potatoes to steam and dry slightly. Press potatoes through a fine drum sieve into a large bowl.
Add flour and salt and mix gently to form a dough.
Roll the dough into 2cm thick logs and cut into 2cm pieces.
Roll each piece across on wooden ridged gnocchi board, or back of a fork.
Cook your gnocchi in salted boiling water until they float, add to a fry pan with a ladle of cooking water and enough pesto to coat the gnocchi, toss to combine and serve with extra parmigiana cheese on top.
Our friends at Wine Selectors suggest pairing this dish with a Vermentino.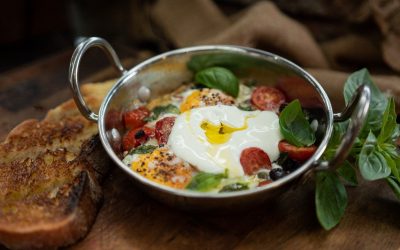 Ingredients: 9 cherry tomatoes, halved 1 small garlic clove, thinly sliced 2 tsp good-quality olive oil 1 tsp balsamic vinegar 5 basil leaves, torn, plus a few extra to serve if you like 5 pitted olives, sliced 2 large free-range egg 1 tsp small capers, rinsed salt...