Gnocci Romana with Mushrooms
Ben O'Donoghue
¾ cup semolina
3 cups milk
1 bay leaf
1 carrot chopped
1 celery stick chopped
1 medium onion skinned and chopped
2 teaspoons chopped thyme
Pinch of nutmeg
100g butter grated
2 egg yolks
100g parmesan cheese
1 clove garlic finely chopped
2 tablespoons roughly chopped parsley
1 lemon
100ml pure cream
500g mixed mushrooms (oyster, pink oyster, king brown, enoki, wood ear, pine or slippery jacks) brushed clean and sliced
To make the gnocchi: Combine the milk with the chopped vegetables, 1 teaspoon of thyme and bay leaf, and gently simmer for 10 minutes to infuse all the flavour. Pass the milk through a sieve into the pot and return to the heat. Simmer again and then whisk in the semolina and stir until thick. Continue to stir for about 5 minutes and remove from the heat.
Whilst still hot, whisk in the egg yolks and ½ the grated parmesan, and season with salt and pepper to taste. Line a flat baking tray with baking paper and spread the thick Semolina over the tray so that it is about 2-3cm thick. Allow to cool.
Once cool, cut the gnocchi dough into circles using a round pastry cutter, reforming any trim so as to use all the Semolina. Rub a baking dish with butter and then arrange the semolina gnocchi slightly overlapping. Dot the top of the gnocchi with half the butter and more parmesan cheese. Place the baking dish into a medium hot oven and bake until golden brown.
While the gnocchi bakes, melt the remaining butter in a saucepan and add the garlic and thyme. Then add the mushroom and sauté until soft. Add the cream, salt and pepper, and simmer to slightly thicken. Finally, add the chopped parsley and a good squeeze of lemon juice.
Once the gnocchi is out of the oven, pour the mushroom sauce over the gnocchi and finish with a grating of parmesan!
Our friends at Wine Selectors suggest pairing this dish with a 2016 Contentious Character Shiraz 2016 or 2017 Long Rail Gully Riesling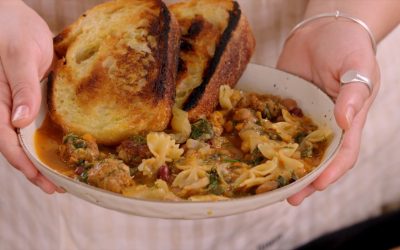 Ingredients: 4 Spicy Italian Sausages Packet of Farfalle Pasta 1 Leek 1 Carrot 1 Onion 2 Garlic 2 cups Shredded Cabbage 1 Chopped Silver Beet 1 400gm Tinned Beans 1 tsp Cumin powder 1 tsp Coriander  powder 1tsp Paprika powder 2 tbsp Tomato Paste Stock of your choice...