Grape and Chicken Saltimbocca and Grape Crumble
Kay-Lene Tan & Adam D'Sylva
Grape Saltimbocca:
100g flour
500g chicken tenderloins
100g butter
3 cloves garlic, roughly chopped
50g prosciutto or pancetta, roughly chopped
5 sage leaves
75g grapes, halved
50ml white wine
1 handful chopped parsley
½ lemon juice
Grape Crumble:
Flour 110g
Rolled oats 40g
Brown sugar 160g
Whole blanch almonds 130g
Butter (cold + diced) 100g
Filling:
Seedless grapes 500g
Brown sugar 180g
Ground cinnamon 2g
Apple cider vinegar 25g
Corn starch 30g
Grape Saltimbocca:
Coat your chicken tenderloins in flour
Melt down 50 g of the butter in a frypan and cook chicken on medium heat until browned.
Add your garlic, prosciutto, sage and cook until fragrant, allowing all the flavours to release into the butter.
Deglaze the pan with white wine.
Add the rest of the butter, add grapes and cook down until a sauce has formed.
Add in parsley and finish off with lemon juice. Serve and enjoy
Grape Crumble:
Blitz flour, rolled oats, brown sugar, blanched almonds and cold butter together to form a breadcrumb like texture.
Can be stored frozen.
Filling:
Toss all ingredients together in a large bowl. Pack into baking dish and cover with crumble.
Bake at 170⁰c for 20 minutes.
Our friends at Wine Selectors suggest pairing this dish with a Verdelho.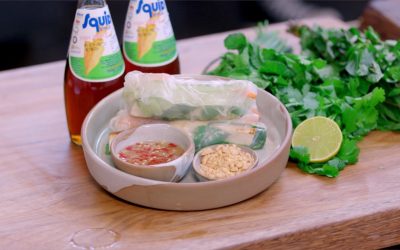 This recipe is brought to you by our friends at Asian InspirationsIngredients:Serves: 8 Prep Time: 10 mins Cook Time: 15 mins Main Ingredients: 1 packet rice paper 150g rice vermicelli noodles 1 bunch coriander 1 bunch Thai basil 1 bunch mint 1 bunch garlic chives 1⁄4...