1 large chicken breast
1 tbsp EVOO
1⁄2 a brown onion diced
2 garlic cloves crushed
2 tsp dried oregano
400g tomato passata
1 tsp brown sugar
100g cherry tomatoes
1⁄2 cup mixed olives pitted
30g greek feta crumbled
To Serve:
Slice the chicken breast in half across the breast
In a large hot frypan place half the EVOO and chicken breast for 1 minute each side.
Remove and set aside.
Pour the rest of the EVOO into the pan and add the onions and garlic and oregano for 2 minutes. stirring.
Add the passata, sugar and tomatoes and cook for 2 minutes.
Add the olives and return the chicken to the pan
Cook for a further 2-3 minutes
Serve.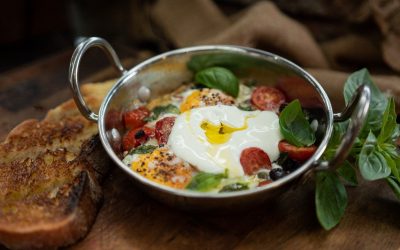 Ingredients: 9 cherry tomatoes, halved 1 small garlic clove, thinly sliced 2 tsp good-quality olive oil 1 tsp balsamic vinegar 5 basil leaves, torn, plus a few extra to serve if you like 5 pitted olives, sliced 2 large free-range egg 1 tsp small capers, rinsed salt...