Green Curry Prawn Toast
Khanh Ong
400g uncooked prawn meat
1 egg white
2 tsp sesame oil
1 tbsp Valcom Green Curry Paste
2 tsp caster sugar
A pinch of salt
1 tbsp thinly sliced coriander stems
1 tbsp spring onion white part
1 loaf of sourdough
1⁄4 cup of white sesame seeds
Sriracha Mayo:
1⁄2 cup of Kewpie Mayo
1 tbsp Pantai Sriracha Chili Sauce
1 piping bag
Garnish:
Spring onion ribbons
Coriander leaves
Fried chili strands
in a food processor combine prawns, egg white, sesame oil, curry paste, sugar, salt, coriander and spring onion.
Pulse until a rough paste forms. refrigerate for 1 hour so it firms up.
slice the sourdough into 1cm pieces. using a knife cover the bread with the prawn mousse and then cover with sesame seeds.
fry for 3-5 minutes until golden.
Sriracha Mayo:
Mix Kewpie Mayo and Sriracha together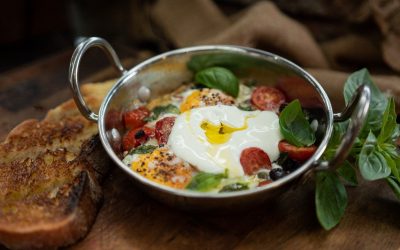 Ingredients: 9 cherry tomatoes, halved 1 small garlic clove, thinly sliced 2 tsp good-quality olive oil 1 tsp balsamic vinegar 5 basil leaves, torn, plus a few extra to serve if you like 5 pitted olives, sliced 2 large free-range egg 1 tsp small capers, rinsed salt...