Green Garganelli with Braised Greens
Laura Sharrad
1 bunch cavolo nero, stalks removed & finely chopped
1 brown onion, finely diced
1 long red chilli, chopped
3 cloves garlic, chopped
4 anchovy fillets, chopped
1/2 cup white wine
50g butter
100g grated parmigiano cheese
Extra virgin olive oil
Sea salt flakes
Freshly cracked black pepper
Dough:
00 flour 400g
Semolina 40g
Eggs 170g
Green puree 70
Olive oil 10g
Sea salt flakes 10g
Bring a large pot of salted boiling water to the boil.
Combine all ingredients in a stand mixer or processor to make your dough.  Rest your dough for at least half an hour before rolling out.  Roll your pasta & laminate three times, rolling from the thickest setting to the thinest.   Cut your squares – then begin to roll them on your rigamonti or desired surface using a wooden rod to get your cylinder-like shape.
Cook your pasta in the salted boiling water for 2 minutes, or until al dente in texture.
In a large fry pan, add a few tablespoons of extra virgin olive oil and begin to fry off the onion, garlic, chilli and anchovies.  Once the sofrito base has softened, add in the braised greens and begin to gently fry off – then deglaze with the white wine and season with salt and pepper to taste. Add a ladle of cooking water to help loosen the sauce, add the cooked pasta, the butter and a good handful of the grated parmigiano cheese and toss to emulsify until thick and glossy.
Serve with extra parmigiano cheese grated over the top.
Our friends at Wine Selectors suggest pairing this dish with a Pinot Grigio.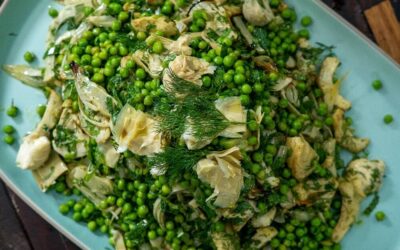 Ingredients: 500g fresh broad beans, in their pods 3–4 small fennel bulbs 250g frozen peas, thawed and rinsed 1 red onion, finely sliced 1 cup dill, finely chopped 1⁄2 bunch mint, finely chopped, plus extra whole leaves to garnish 1⁄2 bunch flat-leaf parsley, finely...