Green Goodness Bowl
Ben O'Donoghue
Pumpkin Seed Hummus
300g pepita seeds soaked in water
30g garlic
120ml lemon juice
120gm tahini
250ml water
250g evo
Tahini Green Goddess Dressing
3 cloves garlic peeled
Juice of 1 lemon 60mls
Salt
100g tahini
250ml EVO
1 cup of water
1 tablespoon caper
1 bunch chives
1 bunch tarragon
1 cup rocket
1 cup basil
Salad
1 bunch Kale (stems removed)
1 small broccoli
100gm green beans
100gm sugar snaps
1 finely sliced white onion
1cup basil leaves
1cup mint leaves
120mls EVO
1 Lemon juiced 60mls
Pumpkin Seed Hummus
In a blender, place the lemon juice, garlic and salt. Blend until smooth.
Drain the pepita seeds and add to the garlic and lemon mixture. On high speed blend the pepitas add the water slowly until smooth. Then continue blending adding the olive oil. Blend until it's as smooth as you can get it. Season with salt and pepper.
Tahini Green Goddess Dressing
In a blender place the garlic, lemon juice and salt and blend until smooth. Add the Tahini and blend until creamy. Whilst still blending the olive oil and water.
Turn off the blender and add all the herbs and capers, then turn on high speed and blend until smooth and bright green.
Salad
Wash and remove the stems from the kale. Then using a sharp knife shred the kale as finely as you can and place into a bowl.
Chop the broccoli into coarse crumbs including the stem. If the stem is woody don't use it.
Trim the sugar snaps and green beans the tops tails and stringy side bits then slice thinly on an angle. Combine with the broccoli and kales and the white onion and herbs
Combine the lemon juice and olive oil and dress the salad and season with salt and pepper.
In a serving bowl spread a generous amount of hummus. Top with your dressed salad then lashings of your green goddess dressing.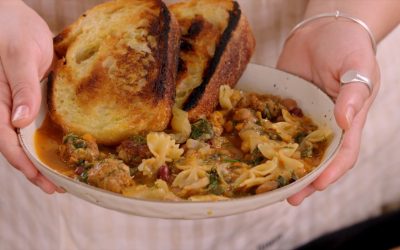 Ingredients: 4 Spicy Italian Sausages Packet of Farfalle Pasta 1 Leek 1 Carrot 1 Onion 2 Garlic 2 cups Shredded Cabbage 1 Chopped Silver Beet 1 400gm Tinned Beans 1 tsp Cumin powder 1 tsp Coriander  powder 1tsp Paprika powder 2 tbsp Tomato Paste Stock of your choice...